Spreading LFP Love
---
Welcome to the Lucky Fin Project!
We Have Partnered With The Mighty!
We're thrilled to announce a new partnership that will bring Lucky Fin Project's community and resources in front of The Mighty's wide-reaching readership. LFP will also now have a growing home page on The Mighty where people can get involved.
The Mighty is a story-based health community focused on improving the lives of people facing disease, disorder and disability. The Mighty publishes real stories about real people facing real challenges. Creating broad mainstream awareness of our community is one of the most powerful ways to effect change. We believe that partnering with The Mighty and interacting regularly with their wide readership will enable us to spread the word about our families and the limb different community — and in turn help even more people.
Here's an example of the kind of stories on The Mighty: "8 Things I Want Parents of Children with Limb Differences To Know"
The Mighty wants to hear from you. We encourage you to submit a story to The Mighty and make your voice heard.
Shout Outs & Famous Faces for the LFP!
2017 Lucky Fin Project Ambassadors
---
Tony Memmel , Singer/Songwriter/Speaker
*LFP Ambassador
www.tonymemmel.com
www.sonicbids.com/tonymemmel
---
Rebekah Marine, "Bionic Model" & Motivational Speaker *LFP Ambassador
http://www.rebekahmarine.com/
Model with bionic arm will walk at New York Fashion Week
http://mashable.com/2015/09/01/bionic-arm-modeling/
---
"Trace Wilson is an acclaimed children's author, whose books are written to help kids with disabilities. Born without a right hand, Trace has learned to love his unique differences and now seeks to help other children do the same."
www.BionicAuthor.org
---
Ashley Mae Sherman was born without her right arm just below the elbow, but with that it hasn't stopped her from living out my dreams and hobbies. She enjoys competitive horse back riding, dancing, acting for our local theme parks, and SCUBA diving. Ashley says, "No one is ever alone! Life is too short to be anything but happy."
Find her on Instagram @OrlandoCyborgAshley
---
Alexis Hillyard was born without her left hand and she loves this unique feature about herself. Her YouTube series "Stump Kitchen" celebrates body diversity, gluten free vegan cooking, and the amazing, unique ways we move through the world. Alexis is also the LFP's first Canadian ambassador!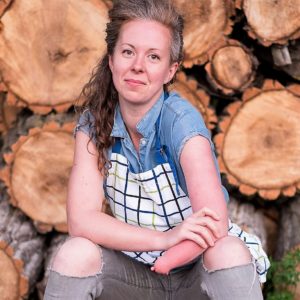 ---
Lucky Fin Song
by Tony Memmel
As a touring musician, my work as an LFP ambassador has taken me all over the country and I've had the privilege to meet a great many families. It has been a keystone of my mission to emphasize A-bility over Dis-ability, and to show children (as well as adults) that all things are possible if you set your mind to them and don't give up.
I am very excited to serve the LFP by providing them with a theme song!
Thank you for listening,
Tony Memmel
Click on the Lucky Fin Song poster below to listen, download and purchase the song!
**50% of the proceeds from downloads go directly to the Lucky Fin Project**
Watch Tony Memmel's LUCKY FIN SONG video here!!
"Through the creation of Lucky Fin Project, Molly has been able to touch so many lives! I am so inspired by the stories she shares on her Instagram feed. She is shining a light on the beauty of all people and is spreading the message of acceptance and love for all. She is creating a space where people can connect with others and gather much needed information that may not be readily available. Thank you Molly for being a warrior for these beautiful people and leading the way! You are a Personal Hero!"
Read more here:
https://personalhero.com/blogs/love-gratitude-messages/personal-hero-molly-stapelman
---
Lucky Fin Project & Tony Memmel on PBS series A Wider World
original air date May 2012
---
Lucky Fin Project founder, Molly Stapelman awarded 1st Runner
Up in Babbles.com 100 Moms Who Are Changing the World- Activism category (2011)
---
Check out this interview Tony Memmel did on NBC's "The Morning Blend." Tony & his wife Lesleigh both sported their Lucky Fin bracelets and even talked a little about the Lucky Fin Project!
http://www.themorningblend.com/videos/117808234.html
---
Singer/Songwriter Tony Memmel gives the LFP another shout out in December, 2011
http://www.themorningblend.com/videos/135444318.html
---
Bob Guiney gives Lucky Fin Project a shout out on GSN Live!!!
---
Founder Molly Stapelman talks about the Lucky Fin Project that helps celebrate & support kids with Symbrachydactyly and limb anomalies (Via Cambio Cares).
---
Jim Abbott is a former Major League Baseball pitcher, who played despite having been born without a right hand. He played for the California Angels, the New York Yankees, the Chicago White Sox, and the Milwaukee Brewers, from 1989 to 1999.
---
Band From TV members Scott Grimes (ER/American Dad), Jesse Spencer (House/Chicago Fire) and Bob Guiney (HGTV- Host, GSN, ABC, TLC) show a little Lucky Fin love.
More Band From TV LFP love from Scott Grimes (ER/American Dad), James Denton (Desperate Housewives) and Bob Guiney (HGTV- Host, GSN, ABC, TLC).
---
i am viable Campaign
---
Lucky Fin Project in the NEWS!
Whole Foods clerk awaits another encounter with voice of Nemo
http://www.chicagotribune.com/suburbs/naperville-sun/news/ct-nvs-nemo-lucky-fin-st-0622-20160621-story.html
Model with Bionic Arm Walks NYFW with Little Girl Born the Same Way: 'She's My Mini Me!'
http://www.people.com/article/rebekah-marine-bionic-model-nyfw-fashion-week-mini-me
'Bionic model' and girl born without left forearm inspire at New York Fashion Week
http://www.foxnews.com/health/2016/02/19/bionic-model-and-girl-born-without-left-forearm-inspire-at-new-york-fashion-week.html?intcmp=hplnws
Model with Bionic Arm to Walk in New York Fashion Week: 'It's Been Quite a Journey'
http://www.people.com/article/rebekah-marine-new-york-fashion-week-bionic-arm-disabled
Express Milwaukee: Tony Memmel Spreads Hope Through Music (6/18/13)
http://expressmilwaukee.com/article-21325-tony-memmel-spreads-hope-through-music.html
Can't Is Not an Excuse: The Lucky Fin Project Rocks (6/04/13)
http://altmike.wordpress.com/2013/06/04/lucky-fin-project-rocks/
StyleLine Magazine, May 2013 (page 36): Lucky Fin Project Offers Support and Education On Limb Differences
http://viewer.zmags.com/publication/7af9a228#/7af9a228/37
Daily Tribune: Lucky Fin Project Rides Wave of Success (2/20/2013)
http://www.dailytribune.com/article/20130219/LIFE01/130219559/lucky-fin-project-rides-wave-of-success
Huffington Post: "What Is Perfection?" by Stacey Forman (8/28/2012)
http://www.huffingtonpost.com/stacey-forman/limb-difference_b_1699400.html?utm_hp_ref=parents&ir=Parents
MMA fighter "Notorious" Nick Newell talks about disability, a fighting mindset, and the importance of focus.
http://goodmenproject.com/featured-content/one-arm-8-0-record-talking-mma-with-nick-newell/#rWxVOHUtzYt8K5RR.99
Preschool Inspirations Blog :Finding Beauty In the Unexpected
http://preschoolinspirations.com/2013/12/24/finding-beauty-in-the-unexpected/
Synectics Media Blog: Social Media Fuels Lucky Fin Project
http://blog.synecticsmedia.com/index.php/2011/03/social-media-fuels-lucky-fin-project/
Born Just Right Blog: Lucky Fin Project
http://www.bornjustright.com/2011/04/lucky-fin-project/
Daily Tribune: Beads Celebrate Limb Anomaly
http://dailytribune.com/articles/2011/04/12/news/doc4da5028d678e8315838698.txt?viewmode=fullstory
Daily Tribune: Orginization Offers Support To Children With Limb Differences
http://www.dailytribune.com/articles/2011/04/28/opinion/srv0000011540710.txt
Ryan Haack Does Stuff:
http://www.ryanhaack.com/gill-nemo/
The Key Magazine, Summer 2011: Ryan's Lucky Fin
http://digital.watkinsprinting.com/publication/?i=74549&p=21
Parenting Special Needs Magazine PSN (July/August 2011) *See page 12*
http://www.mydigitalpublication.com/publication/?i=74897
One Little Fin Blog Spot, November 29, 2011: Make it a Lucky Fin Christmas!
http://onelittlefin.blogspot.com/2011/11/make-it-lucky-fin-christmas.html
Relaxed Mama Blog, May 16, 2012: What is Perfection?
http://relaxedmama.wordpress.com/2012/05/16/what-is-perfection/
Connecticut Post, Dec. 8, 2102: Milford fighter (Nick Newell) beats odds — and opponent
http://www.ctpost.com/local/article/Milford-fighter-beats-odds-and-opponent-4102283.php#photo-3860185
2012 Don't Hide It Flaunt It: The Best of the Flaunters
http://www.megzucker.com/2012/12/28/2012-dont-hide-it-flaunt-it-the-best-of-the-flaunters/#comments
---